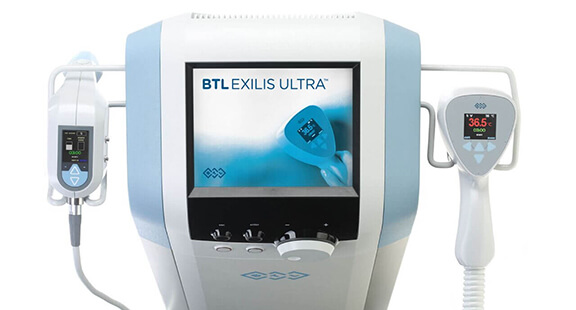 Exilis Ultra skin tightening and body contouring treatment
Exilis Ultra Skin tightening and body contouring Treatment London
The Unparalleled effect of this device for both anti ageing and body sculpting is why it has won award after award for its effectiveness. The Exilis Ultra is the latest instalment to the BTL range of machines which adds more power and effectiveness to the anti-ageing and body sculpting heads. If you are keen to get rid of your wrinkles, tighten the skin or contour your face and body try BTL Exilis Ultra as it offers safe and non invasive solution to all your face and body concerns.
Disclaimer: This site is not a diagnostic tool and although you may feel you condition matches a description on this site you case may be more advanced, better or completely different to another individual. With that in mind, please understand that Individual results may vary from person to person. A Consultation is recommended to assess suitability.
But how does it work?
The first and only device to simultaneously combine radio frequency and ultrasound to tighten skin and address body concerns. The machine drums your collagen producing layers of the skin with thermal energy that produces a warming sensation. Controlled heating and cooling ensure that energy is delivered to various depths in the tissue. Changing power and cooling during treatment allows treating deep tissue all the way up to the superficial layer. This non-invasive and comfortable procedure doesn't burn but wows. Almost instantly 80% of people feel their skin is firmer and tighter and many notice a visual change after just the first session. But amazingly the results have only just started the warm sensation excites the collagen cells and they continue to be at peak excitement for up to seven days. Over this first segment of therapy, your skins natural ability will be turned on and changes can be amazing.
Who is it for?
This treatment is ideal for any patient between the ages of 21 and 70+ looking for cosmetic improvement on their face and body (reduce wrinkles, tighten skin, or remove excess fat).
Treatment plan
We will tailor the best treatment plan based on your individual needs. Most patients undergo between 4-6 sessions scheduled on a weekly basis. Each treatment of a specific body part usually takes between 15 to 30 minutes. This can vary depending on the treated area, indication and other factors.
Is it painful?
No, the treatment should not be painful. The EXILIS ULTRA 360 provides the most advanced non - surgical solution, treating your face and body parts safely, efficiently, and without pain. Most patients describe it the sensation of the therapy as being comparable to that of a hot stone massage. The treatment is performed in a lying position so you can easily relax during the treatment.
Results
Patients in many clinical studies have reported excellent clinical outcomes. It also depends on the treated area, its condition and other factors. You may see visible improvements after a single session. But results will typically improve over a 3 month follow up period.
Downtime
The treatment requires no downtime. You can easily return to your daily activities immediately.