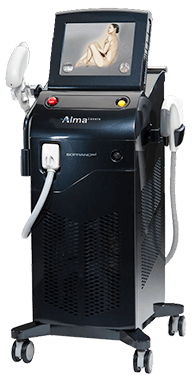 Intrest Free Payment - intro
Unwanted hair is annoying but at Wimbledon Clinic Aesthetics we have an excellent solution. How would you feel if your excess hair could be reduced permanently? Our multi Award Winning Soprano Technology is the industries gold standard for hair removable. Patients just like you often liken the soprano treatment to a hot-stone massage.
Most of our competitors use a static laser, but the soprano's IN-MOTION Technology allows us to move the device around allowing the hair follicles to heat gradually giving you a painless experience. On top of this, the laser is set at a level of penetration 810nm meaning that it is within the most productive zone for removing hairs that start 2mm-4mm below the skin (90% of all hair on the body). These makes Soprano technology superior not only at not missing hairs but also in keeping you comfortable.
You need not imagine how this may cost as we are also providing cost solutions accessible to any budget. Our INTEREST-FREE RE-PAYMENT allows you to spread the cost over nine months - 18 months. These factors reduce payment to as little as the price you pay for a daily latte. – REQUEST A CALL BACK AND ASK FURTHER QUESTIONS.